The best kitesurfing locations near London
by Callum Hemsley
Looking to go kitesurfing near London? We have all the best locations within 3 hours from London listed below;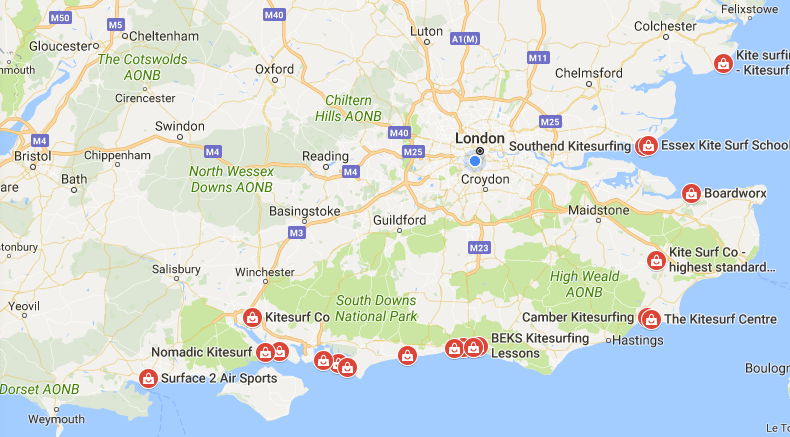 South of London
1-2 hours journey time from central London
1. Camber Sands
Recommended school: Camber Kitesurfing
What we like: We really like Camber because of its absolutely huge beach space (at low tide), consistently good winds, and friendly locals. One especially unique advantage while going surfing in Camber is that 10 min away you have Greatstone beach, the only beach on the South Coast that works during North East winds, making it possible to kite even if the wind is off-shore at the main spot!
Travel: Camber has good transport links from London. Via train you can go from London to Rye, then it's only a short taxi ride to Camber. Alternatively it's about 1.5 hours drive from central London.
2. West Wittering
Recommended school: 2xs.co.uk
What we like: West Wittering is one of our preferred spots on the South Coast, due to its stunning natural beauty and the excellent facilities on offer. The spot is unique because not only is the kiting amazing when the wind is out, you can actually bring out the surf board and catch some pretty good waves at certain tides too. Take note that 2xs is a private club and not open to visitors unless you are taking lessons with them.
Travel: Coming from London, the nearest train station is Chichester, and then you're about 15 mins away from the beach by taxi.
3. Hayling Island
Recommended school: cbk-haylingisland.com
What we like: On a good day Hayling is unbeatable! With a large sandbank that creates a natural bay you get a good mix of flat water and waves to play around in. There is a private member's club that operates here so you will have to either join the club (£150 per year + insurance) or arrange a day pass (£15). There is a great club atmosphere here with safety cover provided at the beach, as well as a restaurant to grab some food after your session.
Travel: The nearest station is Havant, and then you're only a 15 min taxi drive away.
North London
2+ hours journey time from central London
4. Calshot
Recommended school: Nomadic Kite School
What we like: Huge flat and shallow water spots make this a great place to learn, but also for experiencing rolling swells at high tide. The surrounding natural scenery is very impressive and picturesque, so a perfect place to relax after a day of enjoyable kitesurfing. On a good day this place is world class and suitable for both those new to the sport as well as those more experienced.
Travel: Not the easiest spot to get to via public transport, recommend driving to this one and well worth going to.
5. Poole
Recommended school: Poseidon kite School
What we like: This place has two spots, inside the harbour and outside. We recommend aiming for a session in the harbour as it has shallow and flat waters with amazing local facilities nearby. The seaside in Poole is particularly beautiful and is well worth to explore after your kitesurfing. If going for a long walk wouldn't be your idea of how to wrap up a day of kitesurfing, then we also love chilling in the bean bags after a long hard session.
Travel: We'd recommend going to Poole train station as it is easily reachable from London. Poseidon kite school also offer a shuttle service to the beach from there.

6. Weymouth
Recommended school: Paracademy Extreme
What we like: The lagoon is a great place to learn or practise new tricks, the locals are super friendly and the wind is pretty consistent. Plus, the beach at Weymouth is just minutes away from the town centre so you're well covered if you want to have a meal or drink after you've hit the sea.
Travel: The nearest train station is Dorchester South and from there it's a further car journey of 29 mins. Definitely well worth a visit!
East of London
1-2 hours journey time from central London
7. Southend-on-sea
Recommended school: Coming soon ....
What we like: At low tide this spot is great, it can get a bit crowded and be quite technical to navigate, so just make sure you follow all the local rules. There is a nice large grass area for launching and landing, as well as plenty of beach goers around in summer to give this place a nice vibe.
Travel: Southend Central station will get you within walking distance of the beach, so you'll be kiting in no time.

8. Whitstable
Recommended school: Coming soon ..
What we like: There are a range of different spots in this area, each with their own characteristics. The flat water lagoon is perfect for beginners as well as an ideal freestyle training ground for more experienced kitesurfers. Can definitely suggest spending a weekend here and try all the different spots.
Travel: Whitstable train station is a good starting point to all of the spots available here.
West London
2+ hours journey time from central London
9. Clacton-on-sea
Recommended school: Zenith Kite School
What we like: Martello Bay Clacton-on-sea is a designated beach for water sports, making it an ideal location for kitesurfing and rarely gets crowded. With flat water, occasional waves and prevailing south westerly winds, what's there not to like?
Travel: To get to Martello Bay in particular, the closest train station is Clacton-on-Sea and a 15 min taxi ride.

As you can see there are plenty of spots within 3 hours of London, so there really is no excuse not to get out there and give it a go!
Once you've found your ideal location you can easily book lessons with any of the schools via eola
Happy Kiting!
Interested in more activities around London? Check out the best places to go stand-up paddleboarding near London
Enjoyed this? Free this weekend?
We have the best deals for adventure sports across the UK.
Check out activities
---
Next article: The best surfing locations near London