When to go Kitesurfing in The UK
by Callum Hemsley
As you may have guessed, kitesurfing is very much dependant on the weather conditions, and we're not just talking about having enough wind to power the kite.
There are different things to consider when booking kitesurfing lessons, especially in The UK. Here is our list of things to look out for when planning a trip to the beach!
1. Wind speed & direction
These two elements are crucial to ensuring you have a safe time out on the water, so we'll start by looking at them individually.
Wind speed is basically how strong the wind is blowing (or forecasted to) in a certain location. Wind speed is typically measured in Knots and generally speaking you'll need at least 12 knots to kitesurf, but you don't want to go out in anything more than 25 knots in your first few lessons. See the windguru example below;

In the image above you can see the wind speed forecast for a particular day as well as the wind speed gust & direction. You want to pay particular attention to how big the gap is between the wind speed and the wind speed gust, generally a gust of around 5-8 knots is OK but anything higher can make it harder to kitesurf and even dangerous, so watch out for those gusts!
Don't forget, Wind speed will also determine what size kite you will use, the lower the wind speed the bigger the kite you will need to generate enough power to ride, but never use a big kite in strong wind, that's asking for trouble! Here is a link to more information on how to choose the right size kite for the right wind speed and your weight.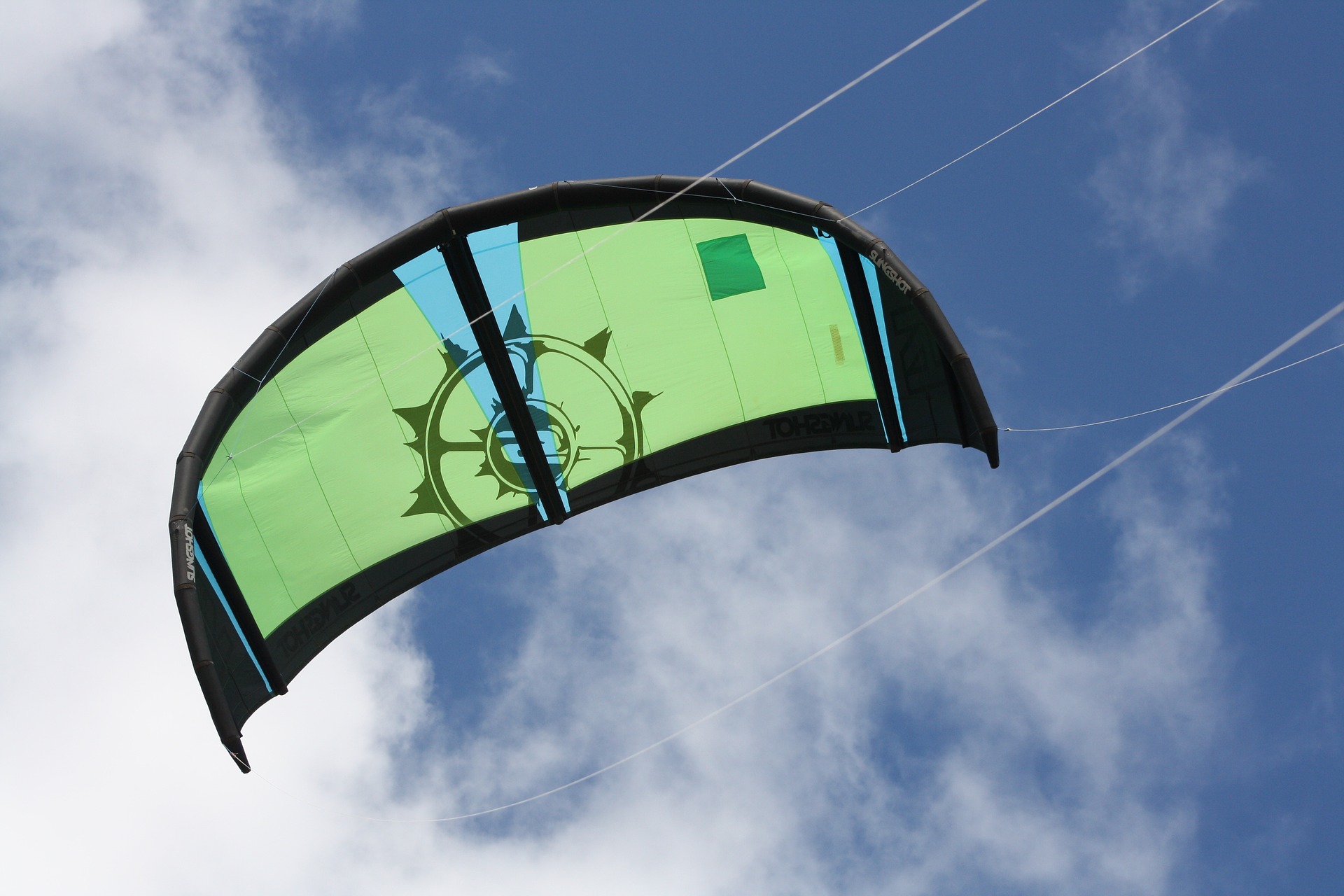 Wind direction is the other key thing to consider when planning a kite trip. The golden rule is to never kite in an off-shore wind! The simple reason for this is because if you cannot go upwind, then guess what? You're going to end up out to sea!
So for this reason stick to wind directions that are safe for the location you are kiting at. These are generally on-shore or cross-shore winds, so if you do get into trouble the wind would just blow you down the beach or onto the beach - much safer than going out to sea!
Check out this link for more information on wind directions & gusts, or reach out to us directly if you have any questions!
In our blog series on top kitesurfing locations around the UK, we show beaches which generally have good wind for beginners, but always make sure you know what the wind is on the day you want to go.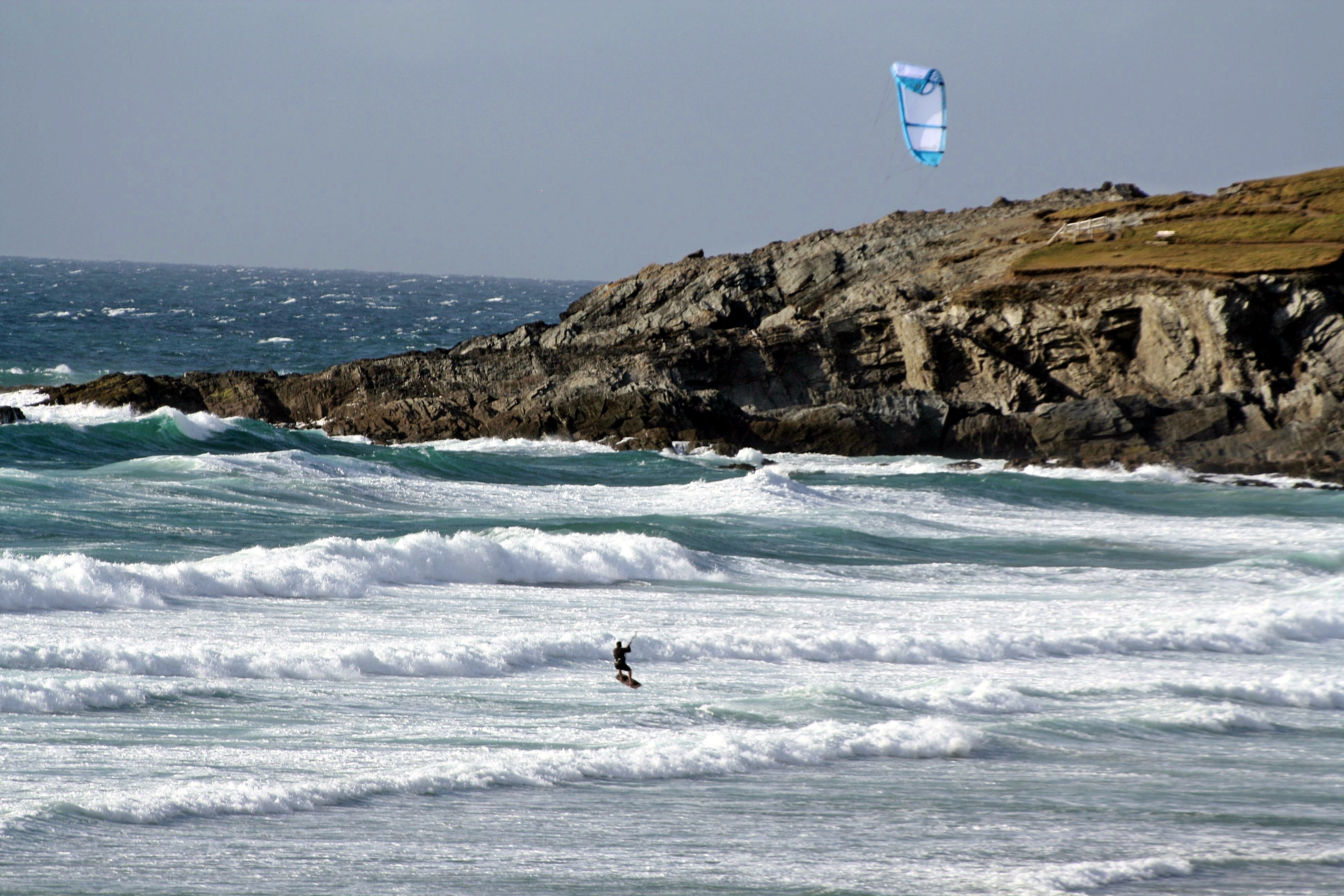 2. Tide conditions
Many locations in the UK (especially on the south coast) are very dependent on their tides for good kiting conditions. What we mean by this is that at high tides it becomes unsafe to kitesurf, especially for less experienced riders.
High tides typically reduce the amount of space on the beach, increase the size of the waves, hide obstacles and bring stronger currents. All of which make the conditions a lot more challenging and unsafe for kiters.
Before kiting on the south coast you will need to check the tide times on Magicseaweed.com and you can then kite 3-4 hours each side of low tide.
3. Temperature
There are two temperatures to keep in mind when kitesurfing, the air temperature and the water temperature. In certain places you may find that the outside air is actually quite warm, but the water can be much colder! So always make sure you check both in order to determine what you'll need to wear to be safe and comfortable on the water.
The UK is again quite a unique place, in that a lot of people think that the water is cold all year around, but if you look at the chart below from surf-forecast.com you can see that it ranges from around 5 degrees in winter months all the way up to 19 degrees in the summer months.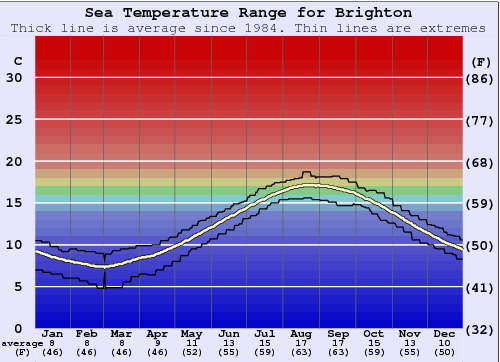 If you're kitesurfing on the south coast in the winter you'll typically need to have at least a 5mm wetsuit with gloves, boots and a hood, or even possibly a drysuit. In the summer months you can get away with a 3mm wetsuit or even sometimes just a warm rash vest. This guide from magicseaweed is great for helping you work out which wetsuit to use!
Before heading out make sure you check what the forecasted AIR & SEA temperatures are, this will ensure you're prepared and will have a safe and enjoyable time out on the water.
Now that you know what to look out for in terms of wind speed & direction, tides and temperature you just need to make sure you use this as a sort of checklist each time you plan to head on out on the water.
Kitesurfing is a fun and enjoyable activity, but it can quickly turn into a bad if you are not prepared and follow the necessary safety precautions, so please make sure you always check before heading out.
When you're ready to book your next lesson or session come on over to eola and we'll help you get out on the water.
Happy riding!
Enjoyed this?
We have a broad selection of activities you can book right now!
See activities
---
Next article: Places to go kitesurfing near Birmingham